2017 XTC WARNORD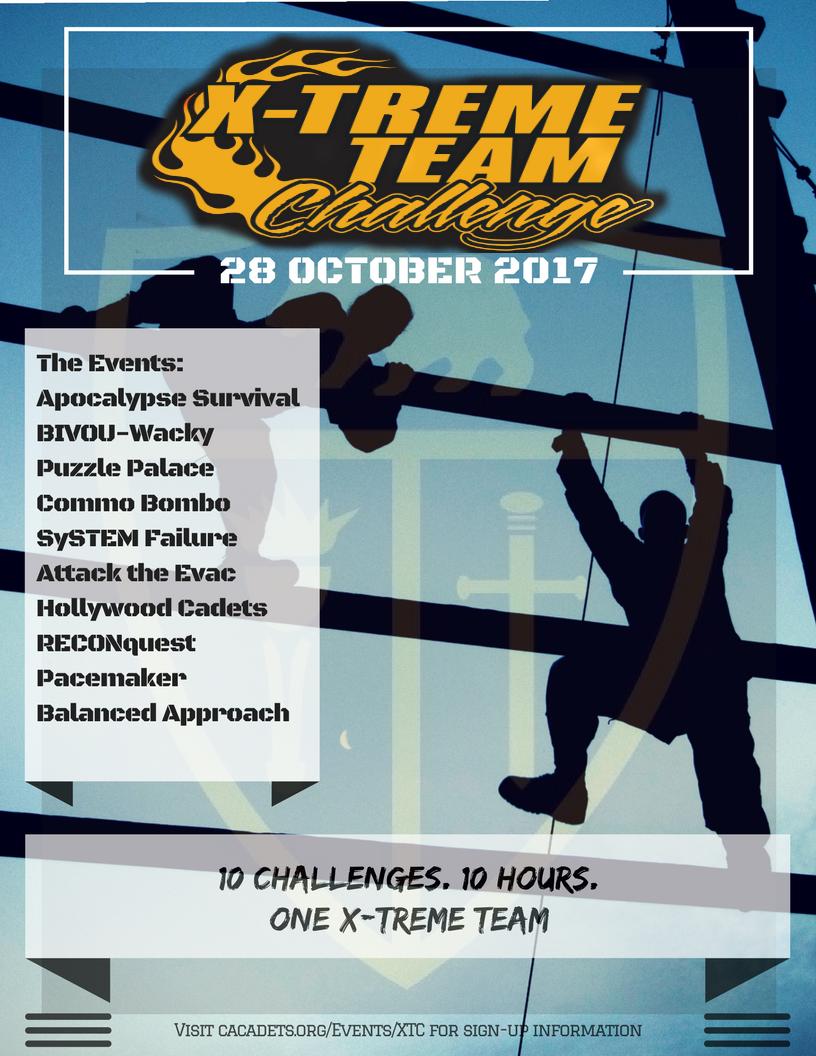 The WARNORD for the 2017 XTC has been published.
The 10 XTC Challenges are similar to last year.
For those who are unfamiliar with the XTC, a short video clip is posted on Facebook.
CACC - 10
06 September 2017

WARNING ORDER 2017-2018-001

1. SITUATION:
a. Name of Event/Operation: Xtreme Team Challenge (XTC)
b. Dates: 28 October 2017
c. Start and End Times: 0730-1700
d. Location: Los Alamitos Joint Forces Training Base
e. Units Participating: Each unit in the California Cadet Corps may have one or more teams participating (until the maximum number of participants is reached). Preference will be given to the first team from each respective unit, additional teams will be permitted on a space-available basis.
f. Participation Requirements: All cadets, in their respective units in the CACC, in good standing with parental and commandant permission may attend.
g. Training Events Planned: Apocalypse Survival, BIVOU-Wacky, Puzzle Palace, Commo Bombo, System Failure, Attack the Evac, Hollywood Cadet, RECONquest, Pacemaker, and Balanced Approach.
2. MISSION:
a. The California Cadet Corps gathers for the annual Xtreme Team Challenge at Los Alamitos Joint Forces Training Base on 28 October 2017 to conduct various physically/mentally challenging competitive events in a field setting designed to promote teamwork and leadership.
3. EXECUTION:
a. Commander's Intent: A competitive athletic event that provides cadets with various opportunities to overcome a challenge, while breaking barriers, and exercising their leadership assumption roles. These cadets will establish a sense of unity among their respective units, while remaining safe during the event, thus resulting in a building of character and gaining of problem solving and teamwork knowledge that could be passed on to our subordinate units out in the field that will aid in promoting esprit de corps.
b. Concept of Operations: The Xtreme Team Challenge will focus on ten physically and academically challenging competitive obstacles each designed to foster squad- level teamwork in a manner aligned with the Cadet Corps curriculum.
c. Goals
i. Goal 1 is to create a safe and competitive environment for the cadets to grow relations and build bonds through physically challenging activities with their respective battalions.
ii. Goal 2 is to develop and expand the knowledge of cadets in order to prepare them to be successful leaders at their units.
iii. Goal 3 is to produce a fun atmosphere for the cadets to interact and build relations with other brigades in the California Cadet Corps.
d. Objectives:
i. 80% of cadet teams will pass/complete the 10 given events.
ii. No cadets are injured during the event.
iii. 100% of cadets will develop a sense of camaraderie within in their respective units.
e. Cadet Leaders and Staff Assignments: The cadet staff and leaders for this event will be the 10th Corps Staff and HHC. Each high school team that is competing will be required to bring 2 HHC members. The minimum school grade to be HHC is 9th grade and the minimum rank is C/SGT. The Headquarters and Headquarters Company ribbon will be awarded to those that participate as
HHC.
f. Application Process: Cadet S-1s should email their Intent to Participate to
s1@cadet.org
. Commandants are requested to register/pay for teams by going to
http://www.cadetstore.org/category-s/106.htm
and selecting "X-treme Team Challenge Team Registration" NLT 07 October 2017and for standby/additional cadets by selecting "X-treme Team Challenge Individual Registration".
g. Cost: $20 per team of 10 cadets, payable by credit card at cadetstore.org, check, money order, or cash at registration; $3 per cadet for less than 6 individuals. HHC Cadets and 10th Corps Cadets are free. Lunch and T shirt will be provided.
h. Key Suspense Dates:
i. 15 September 2017: Supply List Due: All supply lists from the HQS CACC staff and 10th Corps Cadet Staff must be turned into the 10th Corps Cadet S-4 and SSG Rogers at
ryan.rogers@cadet.org
ii. 22 September 2017: OPORDER Published
iii. 30 September 2017: INTENT for Xtreme Team Challenge submitted.
iv. 07 October 2017: Rosters Due: All cadet teams rosters submitted
i. Uniform: For cadets the uniform will be Class C pants with boots or tennis shoes. If a unit does not have sufficient Class C pants for issuance, jeans may be worn instead. An XTC tee shirt will be provided to all competitors. Uniform for adults will be ACU or CMU.
l. Adult volunteers (including parents, chaperones, CACC Staff, etc.) are needed to assist with staffing the cadet store and serving lunches. Adult volunteers should contact LTC Smith at
Michael.Smith@cadet.org
to register so we can plan accordingly.
4. SUSTAINMENT:
a. Meals: Meals will be available to issue out to cadets. Cadets may also purchase a meal on site for $5.00 each or cadets may bring meals or go to PX to purchase food items at their own expense.
b. Cadet Store: The Cadet Store will be open during the time of the event. Cadets may purchase snacks, at their own expense. There will also be CACC logo branded items available for purchase as a fundraiser for the LEAD foundation to support the cadet activities.
c. Transportation: Transportation to and from the event is not provided by HQS CACC and must be arranged by the school or team IAW local policies and procedures.
d. Billeting: For a limited number of teams who arrange in advance with SFC Dionne at
dustin.dionne@cadet.org
to arrive the night before, sleeping accommodations will be provided (may be tents). Bring a sleeping bag.
5. COMMAND AND CONTROL:
a. Cadet Commander for this activity will be the 10th Corps CDR, C/MAJ Salazar
b. Cadet CSM for this activity will be the 10th Corps CSM, C/CSM Quintero
c. 10th Corps Staff Advisor: MAJ Archer
d. Questions may be addressed to the Corps Cadet Staff through normal channels.

ACKNOWLEDGE
Salazar
C/MAJ
DISTRIBUTION:
BDE Advisors
BDE SPO
BDE CDRs & Staff
BN CDRs & Staff
All Commandants